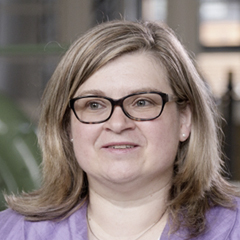 I have worked as a freelance interpreter and translator for English and Spanish since 1994. In my profession I continuously encounter new situations, matters and thematic areas and support my clients in overcoming language barriers and understanding cultural backgrounds better – a task which to this day remains exciting.
In difficult negotiation situations I have occasionally experienced that there are not only misunderstandings at the language level, but that sometimes the interests and needs of the other party are not understood and everybody is stuck in their rut.
This awakened the wish to not only be an interpreter at the language level but also to mediate between interlocutors at the interpersonal level, which finally led me to mediation. I have started exploring communication and conflict behaviour more deeply and have learned to apply methods that support the involved parties effectively in clarifying and finding a solution to their conflict.
Since I speak German, English and Spanish fluently I can offer mediation, conflict coaching and discussion facilitation in all three languages. I have worked and lived with people from various cultures for many years and therefore I am open to different mindsets and other value concepts and am able put myself in the situation of others.
In both areas of work I can actively contribute to better understanding and successful communication - and ultimately to appreciative and constructive relationships.
Mediation in intercultural contexts
My competence is based on diverse experience with people from different cultures and on my multilingualism.
Workplace mediation
I like to support teams and working groups in finding and shaping their roles.
(International) Business mediation
Here I can rely on my experience from interpreting, I am aware of nuances and know the pitfalls.
Mediation in small companies, start-ups and partnerships between freelancers
From my long-term experience as a freelancer I know the circumstances, advantages and difficulties of self-employment.
Community mediation in associations, citizens' initiatives, neighbourhoods, housing projects, religious communities etc.
In the course of my life I have been active in various bodies and associations.
Mediation among family members, e. g. in intergenerational and inheritance conflicts
Discussion facilitation in work teams, organisations and associations
Mediator trained according to the standards of Bundesverband Mediation e. V. (klären & lösen, Berlin)
Freelance interpreter and translator with my own office in Cologne since 1994, working, amongst others, in the fields of law, business, environment, education, social matters
Freelance trainer in the training of language and integration mediators at bikup, Cologne
Voluntary work in the fields of refugee assistance, human rights, representation of student interests and youth work